Easy to reconfigure — lightweight to transport!
Executive Seated Risers use our Executive Stage foundation. This creates a flexible modular system designed to meet a variety of needs. The Executive foundation is strong and durable. It makes attractive seating with excellent lines of sight and clear, unobstructed sound paths. Test its versatility by using the seated risers as band or choral risers or as audience seating. Add pie sections to create winged, horseshoe or arc configurations. One platform to meet a variety of needs.
Common Uses
School Concerts
Class Photos
Choirs & Choral Groups
Photography
Audience Seating
Staging Canadell seated choral riser sets are 36" deep with 8", 16", and 24" elevations (additional elevations also available)
Each 6' section of Seated Choral Riser accommodates 9 performers
Each 8′ section accommodates 12 performers (not including a row on the floor)
Each seated choral pie section accommodates six performers (not including a row on the floor)
Purchase extra leg sets and use as a stage at one level
Custom platform sizes and leg heights available
Use our standard layouts or customize your own set – simply contact us for information
Each set includes :

Three platforms in sizes of either 3' x 6' or 3' x 8'
Standard platform elevations at 8", 16" and 24"
Pie shaped sections are also available
Black top or carpet top surfacing
All required attachment mechanisms
Standing Capacity and Area Requirements
For more information on layouts and capacities download our layout guide, visit our Help Center or contact us and we'll help you with understanding the best package for your needs.
Manuals, support videos, and other resources are located in on our Help Center page
Safety Railing

Add security to any stage or riser performance
All safety railings have built in chair stops
Guardrails attach without tools
Available in:

Chair Stops

Prevent chair legs from sliding off the platform edge
Fast and easy set up—simply clamp onto stage edge
No tools required

Closure Panel

Create a finished look for your seated risers with front and side closure panels
Easy to install with a durable phenolic finish, they also double as a chair stop

Executive Storage Carts

Designed to hold platforms and legs
Total height when stages are loaded: 57.5"

6-unit cart (25.5" wide x 105" long)
8-unit cart (33.5" wide x 105" long)
9-unit cart (37.5" wide x 105" long)

Extended Leg Cart

For storage of your extended height legs and cross bracing, choose the extended leg cart
Each cart will hold legs and cross bracing for nine executive platforms

Rail Cart

Store your rails and chair stops simply and compactly on a rail cart
Each cart holds 18 – 8' rails
We Have What You Need
At Staging Canadell, we realize that you can not always find what you are looking for in a standard "off the shelf" package. The executive platform used in building seated choral risers lends itself very well to customization often times at very little or no additional cost. Anything from complex curves and angles to simple cut outs around pillars or custom-sized section or leg height is possible with the executive line.
What Can Be Customized?
Often your staging needs require more than a standard portable stage can offer. The executive line has been designed to accommodate those needs. If any of the following are what you need, we can help!
Utilizing 3D imagery to custom design and build pit fillers
Curves or angles to meet up with existing stages or raised platforms
Notches for structural pillars
Tier or bridge over built in stairs/steps
Colours of carpet surfacing or skirting/drapery
Leg heights for uneven or multi-leveled floors
Customized ramps, stairs, railings or carts
Is Customization Expensive?
We generally do not charge for customizations. That being said, a custom built stage may cost more per square foot, as the customization often leaves more wasted or unusable material. For example, cutting a 12" x 12" notch out of the stage will not lower the price, but it does reduce the usable surface of the stage. Additional expenses, like 3D imagery or laser cutting, can add to the cost. These kinds of expenses are only required in the most complex customizations.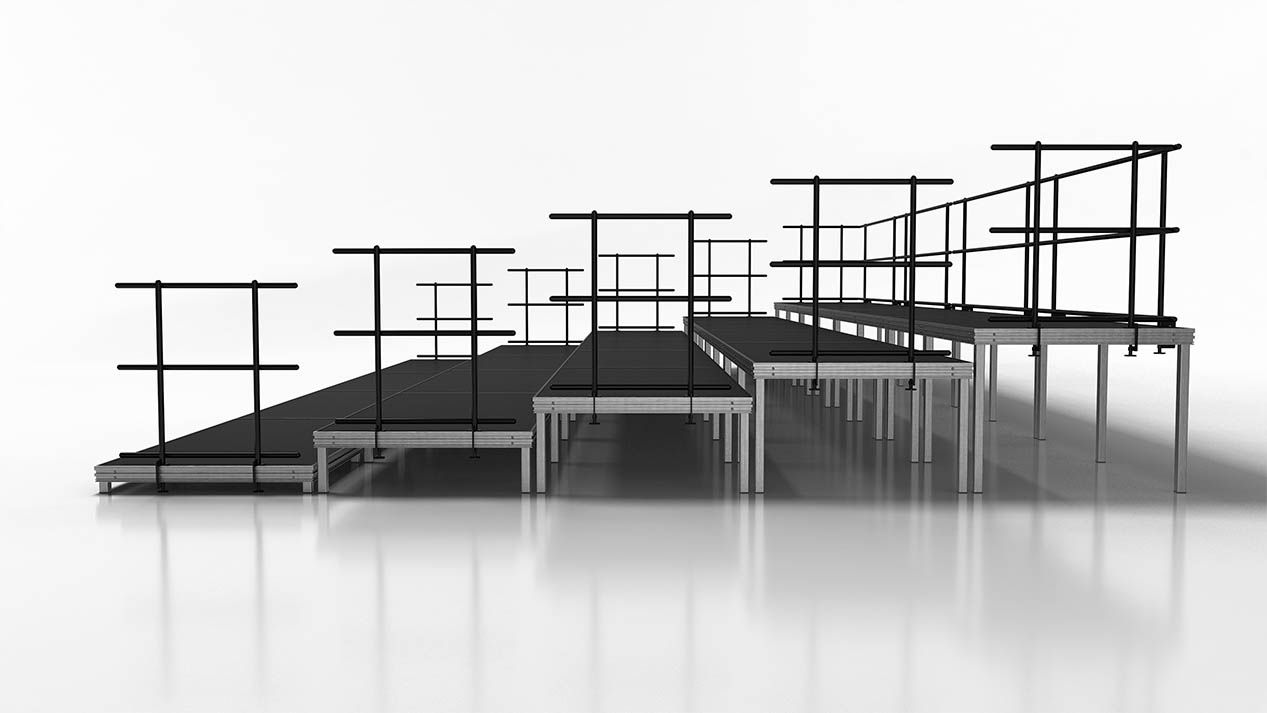 Common Layouts
Below are the most common layout packages. Contact us to find the ideal layout option or if you need a customized order.